ESG Blog
Understanding the what, why, & how of ESG data
Best Practices
Environmental
ESG
Governance
Social
February 28, 2023 | Eileen Whitemiller

Understanding the what, why, & how of ESG data
For companies to continue to be competitive in today's business environment, an ESG strategy backed by powerful, robust data is a must-have.
In the past, a company's commitment to "do good" was an ancillary, immeasurable goal. Now with an abundance of ESG data available, ESG impact is both measurable and in high demand by stakeholders and consumers. ESG goals now have an equal seat at the table alongside other revenue producing KPIs.
ESG data is plentiful but complex. And there are a number of reasons why they matter to leaders in the boardroom, their stakeholders, and their customers.
Let's dive into the what, the why, and the how of ESG data.
What is ESG data?
ESG is comprised of three main components: Environmental, Governance, and Social. Companies use these guideposts to determine their impact on the environment and society. Measuring ESG data is a way for companies to establish transparency and accountability with stakeholders, investors, customers, and employees. There are numerous data points to consider, but these are a few examples: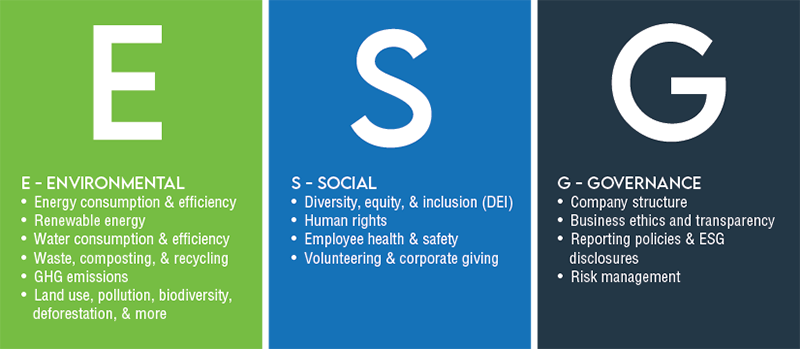 ESG evaluations and scores, when combined with financial analysis, give investors a clear understanding of a company's long-term potential. These data points identify key issues that aren't typically accounted for on a traditional balance sheet yet have a critical impact on a company's risks and opportunities.
Why ESG data?
"Today's leaders are faced with an incredible opportunity to carve out a new future for their organizations by building sustainability principles into core business strategies."
Once considered subjective or "feel good", ESG data provides a clear snapshot of a company's performance and impact. Now more than ever before, stakeholders care deeply about partnering with businesses who care about the same issues they do.
Millennials in particular are committed to working for and purchasing from value-driven companies. With an annual spend of $2.5 trillion (and growing), consumer power is making it a necessity for companies to "stay ahead of the curve" by providing clear and transparent ESG data.
Collecting and analyzing ESG data helps companies maintain compliance and realize inefficiencies in their operations.
ESG is no longer "nice to have", but a "must-have", especially now that government agencies are beginning to require reporting of such data.
How do I track & collect ESG data?
Energy, water, and waste data in particular helps to tell the story of a company's current environmental impact. These metrics unlock solutions that improve the way companies operate while simultaneously supporting their bottom line. One fundamental data point that any business operating properties should track is the utility usage at their locations. Understanding the actual consumption of utilities at a building is the first step in revealing opportunities for reductions. For real estate owners and managers, this information is crucial in determining where retrofits are necessary and in tracking the cost-to-benefit ratio of implementing changes.
Tracking and analyzing environmental data is made easier when partnering with an environmental management system (EMS) provider. An EMS provider can assist with comprehending this data through utility bill collection or connecting to smart meters, which capture real-time utility usage directly from a property.
Launched in 1992, ENERGY STAR is a voluntary EPA program that delivers environmental benefits and financial value through superior energy efficiency. In 2019, the ENERGY STAR program for commercial buildings helped businesses and organizations save 230 billion kilowatt-hours of electricity, avoid $14 billion in energy costs, and achieve 170 million metric tons of greenhouse gas reductions.
Social (the "S" in ESG) data can also be tracked, allowing a company to fully grasp its impact on its stakeholders. This data is typically collected through surveys conducted by an independent third party and can include a variety of metrics depending on the key performance indicator(s) a company would like to measure. For example, individuals can be prompted to provide a net promoter score (NPS) and satisfaction score to gauge satisfaction of a group. For health and well being, assessing needs and goals can assist a company in improving its social impact on stakeholders.
Third-party assurance providers ensure all reported data is accurate as disclosed. For example, such verification can support a company's innocence of greenwashing, a form of misinformation or deceptive marketing to gain investors or stakeholders by falsely presenting that the company's operations are eco-friendly.
Your data, your solution
As investors become focused on understanding and evaluating ESG performance and consumer spending shifts toward sustainability-focused enterprises, businesses are seeking out solutions to gather and report on metrics that show solid management of ESG efforts and outcomes. However, managing an ESG program and evaluating performance can be a complex challenge which requires accurate, relevant, current data that must be collected, analyzed, and disclosed.
To do this, many companies are turning to EMS providers that help businesses monitor non-renewable resources, minimize usage and harmful emissions and waste, reduce operational costs, and support regulatory compliance.
To support the demand from standardized ESG and reporting frameworks, the World Economic Forum unveiled a set of metrics companies can use in reporting methodology that provides a common set of disclosures and support more coherent, comprehensive ESG reporting frameworks.
Conservice ESG partners with companies across all verticals of the real estate industry. With the only bill to boardroom solution in our industry, we create and implement ESG strategies that impact the world while growing a company's bottom line.