ESG Blog
Five environmental metrics worth tracking
Environmental
ESG
Sustainability Reporting
June 8, 2023 | Madison Killpack

Five environmental metrics worth tracking
For companies focused on ESG (Environmental, Social, Governance) efforts, metrics matter. Metrics ensure companies can measure progress and track relevant goals while demonstrating effectiveness and impact. Environmental sustainability metrics are some of the most important.
There are four main types of sustainability: human, social, economic, and environmental. Each industry and organization will have different metrics that are material to their business, but some metrics commonly tracked by leading companies are:
Financial metrics such as cost/benefit analysis, internal rate of return (IRR), and return on investment (ROI) are examples of financial metrics that are essential to most organizations.
Environmental metrics typically include reduction of electricity usage, change in fuel consumption for company vehicles, carbon emissions reductions, gallons of water saved, and increased waste diversion.
Social metrics focus on employees and occupants, health & wellbeing, diversity & inclusion, supply chain management, and more.
Governance metrics are often determined by the existence of policies on a wide range of issues such as company values and business resilience plans.
While all ESG metrics and sustainability efforts are important, much of the world is focused heavily on environmental sustainability metrics and reporting as organizations take steps to reduce waste and use energy efficiently. Climate change poses significant financial risks and opportunities for the global economy as Earth's rising temperature is increasing natural disasters, disrupting ecosystems and human health, and causing unanticipated business losses while threatening assets and infrastructure.
To adequately prepare for climate-related risks, financial markets and businesses alike need comprehensive, reliable information to analyze the effect of regulations on industry costs, the implications of a low-carbon economy, and the impact of new technologies. Not only are these efforts good for the environment, tracking sustainability metrics benefits businesses in multiple ways.
What are the benefits of sustainability efforts?
The positive benefits that come from focusing on and tracking sustainability efforts can come in different forms, such as:
Increased investor demand. Mainstream advisors and investors are increasingly looking for ESG funds. In fact, according to Morgan Stanley, U.S. sustainable equity funds outperformed their traditional peer funds by a median total return of 4.3 percentage points in 2020.
Increased brand value. Nielsen deemed 2018 the year of the "sustainable shopper," and predicted the sustainability market will reach $150 billion by 2021. Almost half of U.S. shoppers say they change their consumption habits to benefit the environment.
Increased employee engagement. Believe it or not, a 2019 Fast Company article reported nearly 40% of millennials have chosen a job because of company sustainability and more than 10% of workers said they'd be willing to go as far as to take a $5,000-$10,000 pay cut.
Organizations that want to be seen as leaders in corporate environmental sustainability should consider five key environment sustainability metrics.
Five sustainability metrics to monitor
The 2020 State of Green Business GreenBiz report provides insights on five key environmental sustainability metrics companies should consider for tracking and reporting purposes.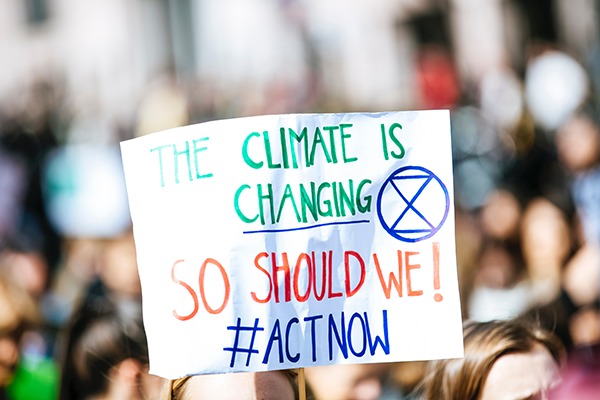 Metric #1 - Climate risk
Climate risk was reported as a newly emerging environmental metric as companies account for the changing environment and the physical risks of climate change. The GreenBiz report data shows 86% companies now publish a sustainability report and a large majority of these companies are acknowledging their exposure to climate-related risks. Of these, 82% reported regulatory transition risks and 79% described physical risks from climate change in their reports that could negatively impact productivity and success.
As the world's response to climate change remains uncertain, forward-looking scenario-based assessments of transitional and physical climate risk, such as those recommended by the Task Force on Climate-related Financial Disclosures (TCFD), can help companies develop risk mitigation strategies across corporate asset locations, supply chains, and product life cycles.
Metric #2 - Carbon emissions
The Paris Agreement is a landmark international accord that was adopted by nearly every nation in 2015 to address climate change and its negative impacts. The agreement aims to substantially reduce global greenhouse gas emissions in an effort to limit the global temperature increase to 2° Celsius above pre-industrial levels by 2050.
The emission of carbon dioxide (CO2) and other pollution that results from the burning of fossil fuels used to generate electric power, provide power for transportation (cars, trucks, and air travel), and heat homes and buildings is the major factor contributing to climate change. Efforts to improve energy efficiency, migrate to renewable energy, and shift from coal to methane provide solutions to reducing harmful greenhouse gas emissions.
Companies are beginning to take efforts to reduce emissions, such as migrating from coal to natural gas, which is 85% more efficient in producing electric power. As companies make these migrations and reduce emissions, metrics and reporting will be the only reliable factor that tells the story of change and ensures companies can reach their target goals.
Metric #3 - Energy improvements
Energy use is the largest factor impacting environmental sustainability and is a direct contributor to greenhouse gas emissions and other compounds that are detrimental to the environment. Therefore, every company's energy improvement matters and so do the metrics used to track this energy consumption. Companies are beginning to implement alternate, renewable sources of energy into their operations such as solar energy and wind power.
Companies are also utilizing different methods such as ESG platforms and IoT (Internet of Things) sensors to accurately measure and track energy consumption, a dynamic process that provides an analytical framework to monitor, measure, and catalog data.
Metric #4 - Water reduction
Water is a critical and primary metric because of its prevalent, daily usage within most companies and facilities. The U.S. Energy Information Administration (EIA) estimated that the 46,000 large commercial buildings (200,000+ square feet) in the U.S. used about 359 billion gallons of water (980 million gallons per day) in 2012.
Beyond water reduction, the loss of water from leaking pipes or water distribution lines must be considered, along with water pollution, which was added as a new metric in the GreenBiz report. Water pollution is measured by the "total natural capital cost of the environmental impacts from heavy-metal and pesticide pollution or from excess fertilizer use causing algal blooms."
Unfortunately, the report also stated company water use has averaged a 9% yearly increase since 2015, both for U.S. companies and globally, and water pollution costs have nearly doubled since 2014. Utilizing goal-oriented metrics to monitor water quality, consumption, and leakage will play a crucial role in conserving water as well as protecting the health and safety of people and the environment.
Metric #5 - Waste diversion
Waste management is a broad category, including food waste, agricultural and animal waste, medical waste, radioactive waste, hazardous waste, industrial non-hazardous waste, construction and demolition debris, extraction and mining waste, oil and gas production waste, fossil fuel combustion waste, and more.
To better understand waste, companies are beginning to use circular frameworks as a tool to assess and track the full scope of material flows in their operations. In 2020, the Cradle to Cradle Products Innovation Institute offered a set of metrics tailored specifically for the circular economy, which included considerations of sourcing such as recycled or renewable content, design of intentional end-of-life strategy such as disassembly, recoverable content such as recyclability or biodegradability, and investment in infrastructure to enable a circular economy.
Countries, cities, and companies that can commit to circularity goals and waste measurement frameworks will enable data-driven decision-making, progress-tracking, and accountability that reduces waste, creates jobs, and adds economic value while supporting the environment.
Getting started
While there's still a long way to go, companies are showing a growing commitment to sustainability efforts by reducing environmental impacts and publicly disclosing environmental data and reduction targets.
Companies can establish ESG programs, build sustainability SMART goals into strategic plans, and integrate ESG metrics into business plans. Companies can share these plans and metrics through dashboards, public or internal reports, as well as company press events. By making company progress public, companies can improve employee engagement, increase consumer confidence, and satisfy stakeholders.
For companies looking to get serious about environmental metrics tracking, utilizing ESG software can help establish baselines, develop KPIs, track progress, and help companies share success with stakeholders.